Ciara's Invisalign Journey
Its Invisalign Day 21st Sept 2018
So today is the day I start my invisalign journey !!! I'd been away on holidays so there was a bit of a delay in starting the invisalign treatment as it would normally take approx. 2 weeks for your trays to arrive… so today's appointment was 45mins with NO PAIN  at all. I'll attach a few photos to show you what went on. Firstly, the brackets were placed, like I said before this is just like a filling without the injection or drilling, The next step was to make space between my teeth (every case is different so you may not need this done). Dr. Saif applied some numbing gel onto my gums as he said I may have some sensitivity while he was filing down the teeth, but there was no pain at all. The whole treatment was very quick and completely painless. After he had made the spaces it was then time to fit my first tray… eeeekkk. It just clips in over the brackets. It does feel a little tight but that's the idea, it's to move your teeth!!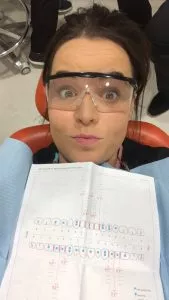 The look of fear.. .the page includes all the details for Dr Saif, on what teeth the brackets will be placed on and also what teeth need adjusting.
Prepping the teeth for the brackets and placing the brackets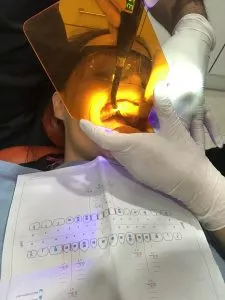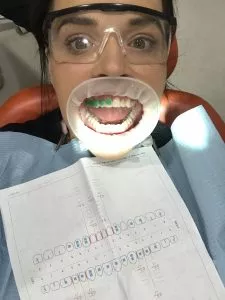 There ON!!!!!!!!!!!
Update:
2hours on….
Ok back working on reception, we have a few issues…. Answering the phone saying 'dental excellence' is one!!!! Please go easy on me and don't make me say difficult words like sizzling sausages!!! Haha. I'm sure ill get use to it soon (I hope).
Other than that, everything else is going good. I had lunch which meant taking the trays out and placing them in a box that was provided with them. The brackets feel a bit funny, like I have food on my teeth. I think I'll be carrying a mini mirror and toothbrush with me everywhere I go now. The trays were a little difficult to get out but again I think that's just a matter of me getting use to taking them in and out!
7 hours on….
There is a lot of pressure on my teeth especially the top ones. I am finding them quite sore. Dinner was difficult, Chewing was painful. (this could be the best diet plan for the wedding haha). I've taken some pain killers which were advised by Dr Saif to help. It's to be expected after all the are moving my teeth no pain no gain as they say!
9 hours on…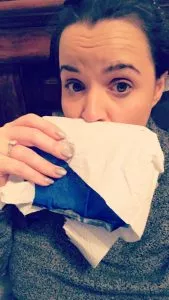 Pain is still there lots of pressure on top teeth. I'm so tempted to take them out, but I know if I do I won't put them back in. I've got myself an ice pack and have it placed on my mouth which is helping a lot. Let's hope I get some sleep.
24hours on:
Little or no pain now. Had a brilliant night's sleep didn't need to take any more pain killers the ice-pack really helped. Biting down is still a little sensitive but manageable. Really need to start practicing talking though. Who knew it would be so difficult to say Sixty or Fifteen!!!
Ill keep you all posted in the coming days on how the speech and eating is coming along. Ciara x